Who We Are
ACSS is a non-profit organization dedicated to promoting quality instruction for students and support for Social Studies educators.The Arizona Council for the Social Studies is actively engaged in strengthening social studies education in Arizona. We are a proud network for support and communication for teaching pedagogy, social studies content, public policy and career development. 
An All-Volunteer group, we have been recognized for our hard work by the National Council for the Social Studies with 6 Gold Star Council Awards (2014-2018, 2020) and 5 Silver Stars (2005, 2006, 2009, 2012, 2019).
What is Social Studies?
Social Studies is the integrated study of the social sciences and humanities to promote civic competence. The purpose of social studies is to help young people develop the ability to make informed and reasoned decisions for the public good as citizens of a culturally diverse, democratic society in an interdependent world. Within the school program, social studies provides coordinated, systematic study drawing upon such disciplines as anthropology, archaeology, economics, geography, history, philosophy, political science, psychology, religion and sociology, as well as appropriate content from the humanities, mathematics, and natural sciences.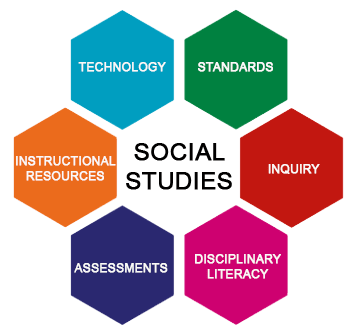 How Does ACSS Work?
We are part of the network of more than 110 affiliated state, local, and regional councils and associated groups with the National Council for the Social Studies. Our membership represents K-12 classroom teachers, college and university faculty members, curriculum designers and specialists, social studies supervisors, and leaders in the various disciplines that constitute the social studies.
Arizona Council for the Social Studies serves as the leading voice for the promotion of quality Social Studies education in Arizona. The purpose of the Arizona Council for the Social Studies is to:
promote and improve the teaching of the social studies in Arizona schools
encourage cooperation among specialists in social studies, social science, professional education, and the schools
provide a network of communication and mutual support for those involved in social studies education at all levels
serve as a support base for the social studies in the state of Arizona and to take appropriate steps to do so
ACSS Governance includes an Executive Committee composed of four elected officers which include ACSS Presidents, Vice President, Secretary and Treasurer, and the Immediate Past-President. The Officers serve for one-year terms, except the Treasurer serves a two-year term. The Board of Directors, the policy makers of ACSS, is composed of the Executive Committee and 12 members who serve three-year terms. For more about ACSS Governance, download the ACSS Constitution.
The Board meets every month, except during June and July. The Executive Committee and the Board of Directors are elected by the membership at large at the Annual Conference every year. 2021 ACSS Current Board & Terms 2021 Board Terms.
ACSS History
Arizona Council for the Social Studies was founded in 1975 by university professors and K-12 teaching professionals concerned with supporting social studies teachers in Arizona. ACSS archival materials are held at Arizona State University. 
© Copyright Arizona Council for the Social Studies 2021