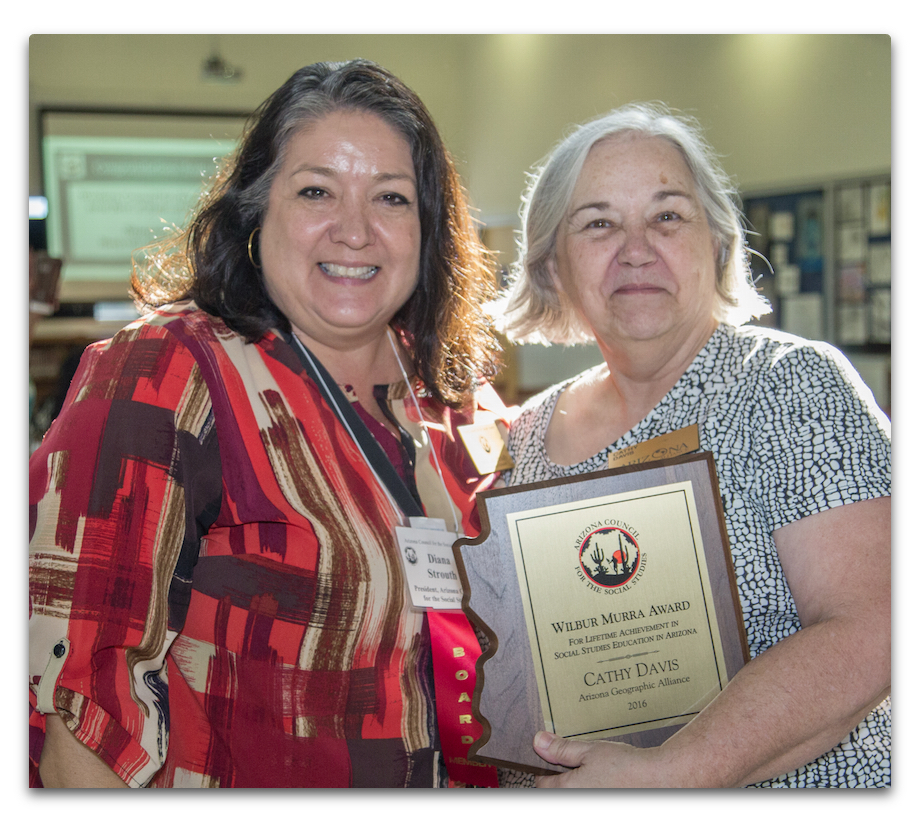 ACSS President Diana Strouth (left) with  2016 Wilbur Murra Award recipient Cathy Davis of the Arizona Geographic Alliance. Cathy was honored for her decades of service to the social studies education community.
The Awards Committee of the Arizona Council for the Social Studies needs your help!
Nominations are Due by End of Day February 24th, 2022
Each year, we showcase excellence in the teaching of social studies in our state through our awards program. It's time to nominate yourself or your colleagues for recognition. These ACSS awards are given each year.

Special ACSS Awards may also be given such as:

Our conference may also honor recipients of awards given by other organizations such as:
James Madison Memorial Fellowship Foundation Senior Fellows
Gilder-Lehrman History Teacher of the Year Awards
We the People: The Citizen and the Constitution State Competition Results
Arizona Educational Foundation Teacher of the Year Awards
National Council for Geographic Education: Distinguished Teacher of the Year Awards
So, nominate yourself or a deserving colleague today!!!
Please submit all the nomination requirements above to the Arizona Council for the Social Studies Email: [email protected] Attention: Awards Committee by the end of February 24, 2022.
Thanks for helping us to highlight the best of Arizona Social Studies teaching and learning.