2019 Educators' Conference on the Holocaust – Spring 2019 – Date TBA
The 27th Annual
Educators' Conference on the Holocaust
Date
TBA

Ina Levine Jewish Community Campus
12701 N. Scottsdale Rd., Scottsdale
Bureau of Jewish Education – Phoenix
Details from the 2018 Conference:
Keynote speaker was Jeannie Opdyke Smith, daughter of Polish rescuer, the late Irena Gut Opdyke. Irena wrote In My Hands – Memories of a Holocaust Rescuer. Irena's story was so incredible that actress Tovah Feldshuh brought the play, Irena's Vow to Broadway.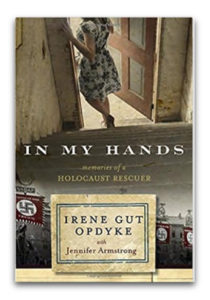 This conference brought together Holocaust educators, authors, survivors, and Second Generation. There were many great opportunities during an incredible evening of learning and understanding how the Holocaust was a benchmark for teaching about unchecked evil.
Teachers learned how to enhance their teaching and effectively impart to students about one of the most tragic and significant events in history and its lessons.
Check out Jeannie Opdyke Smith's website for more information…
Post expires at 6:26pm on Wednesday May 15th, 2019