Arizona Council on Economic Education

The Arizona Council on Economic Education is an organization of Arizona educators that promote economic education from kindergarten through college. For information on upcoming events, training, and resources visit their website at www.azecon.org
The ACEE envisions a world where all school-aged children are empowered through economic and personal financial literacy to make informed and rational choices throughout their lives as consumers, savers and investors, workers, entrepreneurs, citizens, and participants in a global economy.
Math in the Real World – Saturday, September 15, 2018 in Flagstaff at NAU.
The 57th Annual Financial Literacy & Economic Education Conference – October 4-6, 2018 in Atlanta, GA
EconTalk: Russ Roberts – Tuesday, November 13, 2018 in Phoenix.
Champions in Education Dinner – Wednesday, November 14, 2018 at the Scottsdale Resort at McCormick Ranch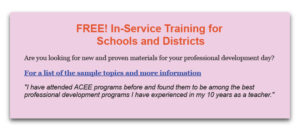 For more information on ACEE activities and programs, write programs@azecon.org or visit www.azecon.org